TRUCKSTOP BURGER
Two certified Angus beef patties with cheddar cheese on a toasted brioche bun. Topped with grilled onions, lettuce, tomato & our secret sauce. Served with waffle fries.
Make it a Beyond patty for + $1
TRIPLE DECKER TURKEY CLUB
Free-range turkey with bacon, avocado, pepperjack cheese, lettuce, tomato and mayo on toasted sourdough bread. Served with waffle fries.
Make it a wrap for + $1
PESTO CHICKEN SANDWICH
Grilled chicken, pesto aioli, tomato, spinach, mashed avocado, and pepperjack cheese on a brioche bun. Served with waffle fries.
CHICKEN TENDERS
Seasoned, breaded chicken, fried to a perfect golden brown & served over a bed of waffle fries.
BIRRIA TACOS
Angus certified beef marinated with a traditional blend of Mexican spices & melted cheese, served on corn tortillas. Topped with watermelon radish and cilantro.
SOUTHERN FRIED CHICKEN SANDWICH
Seasoned chicken breast, roma tomatoes, pickles & lemon aioli on a brioche bun. Served with waffle fries.
CHICKEN CAESAR WRAP
Chicken, parmesan cheese & romaine lettuce tossed in our housemade Caesar dressing. Wrapped in a locally made flour tortilla & served with waffle fries.
Salads
CAPRESE SALAD
Fresh mozzarella layered with sliced heirloom tomatoes, drizzled with our house-made pesto sauce and balsamic glaze.
CAESAR SALAD
Romaine lettuce, parmesan cheese, croutons, & caesar dressing.
SWEET GREENS
Lettuce medley, granny smith apples, feta cheese, candied pecans and red onions with a balsamic honey vinaigrette.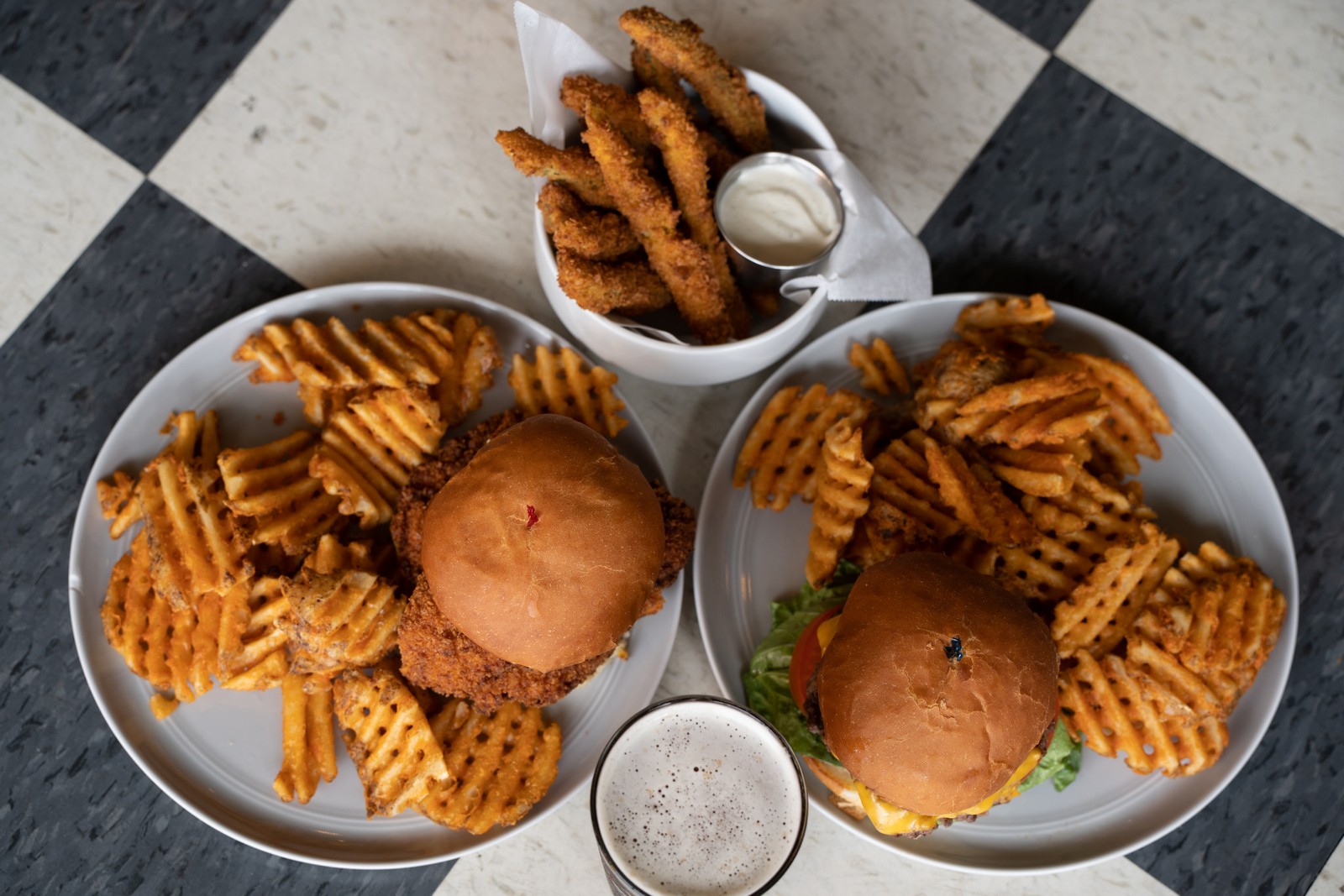 Drinks
SODA
Pepsi, Diet Pepsi, Sierra Mist, Dr. Pepper
REDBULL
Regular or Sugar Free
UNLIMITED COFFEE
BLACKBIRD NITRO COLD BREW
FRESH BREWED HOT/ICED TEA
ASSORTMENT OF JUICES
Sides
TRUCKSTOP BACON
HAM
SAUSAGE LINK OR PATTY
CARNE ASADA
EGGS
FRUIT
YOGURT
AVOCADO
BLACK BEANS
HASH BROWNS OR POTATOES
PANCAKE
BISCUIT
GRAVY
TOAST