Welcome to Truck Stop!
The go-to brunch spot in Pacific Beach, San Diego, where exceptional flavors and delightful culinary creations await. Our menu is carefully crafted to satisfy both your sweet and savory cravings, with standout dishes that will leave your taste buds begging for more. Join us as we highlight two irresistible breakfast options that are sure to make your brunch experience at Truck Stop truly unforgettable.
Brie Stuffed French Toast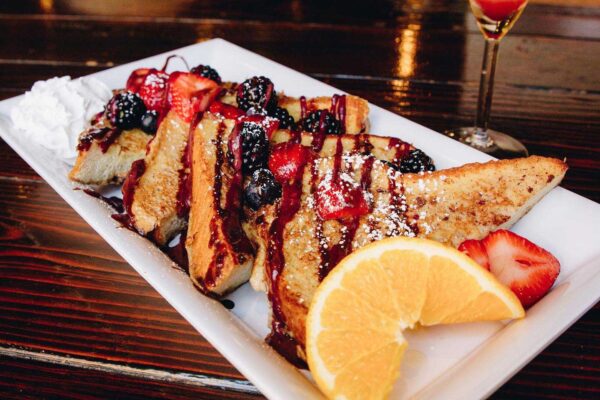 A thick slice of brioche bread oozing with melted brie
Topped with a luscious mixed berry coulis for a burst of fruity goodness
The perfect harmony of sweet and creamy flavors
Indulge in this heavenly creation that combines richness and freshness in every bite
Our Avocado Toast
A slice of artisan rosemary olive oil sourdough toasted to perfection
Generously topped with forked avocado, cherry tomatoes, and crispy bacon
Accompanied by 2 eggs cooked any style for a protein-packed brunch treat
Served with a side of tangy citrus hollandaise for an added burst of flavor
A satisfying and wholesome option that celebrates the beauty of fresh ingredients
Why Choose Truck Stop for Brunch?
A hidden gem in Pacific Beach, San Diego, known for its delectable brunch offerings
Fresh, high-quality ingredients sourced locally to ensure superior flavors
Thoughtfully crafted menu items that cater to various taste preferences
Charming and cozy ambiance, creating the perfect setting for a leisurely brunch
Friendly and attentive staff committed to providing exceptional service
Join Us at Truck Stop!
At Truck Stop, we take pride in delivering a brunch experience like no other. Whether you're craving the irresistible sweetness of our Brie Stuffed French Toast or the savory delight of our Hippie Hash, our menu is designed to delight your taste buds and leave you longing for more. Join us at our Pacific Beach location and indulge in a memorable brunch that will keep you coming back for more.
Don't miss out on the opportunity to savor these delightful breakfast options. Visit Truck Stop today and discover why we are the top choice for brunch enthusiasts in Pacific Beach, San Diego. We can't wait to welcome you and take your taste buds on a mouthwatering journey you won't soon forget. Make a reservation today!